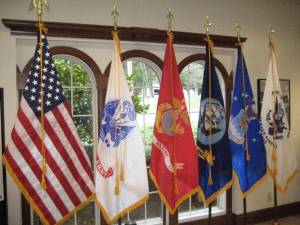 In honor of Veteran's Day, I want to tell you about my husband.
He was a Marine guarding the US. Embassy in Niger (West Africa) when we met. I was a Peace Corps volunteer in the capital for a couple of days to submit reports. That night I would have stayed in, but it was the birthday of a new volunteer in our group, and she wanted to get a birthday beer. So that's how I ended up sitting across a table from my future husband at The Cloché, the bar Peace Corps and Marine Corps frequented in Niamey for its beer, peanuts, air conditioning and friendly folks. It was love at first sight.
Now we are married with three kids, all because we both went in for a beer that night. I never would have thought I'd end up married to a fellow in the service, and you can bet my parents didn't either (Mom, you're nodding as you read this, I bet). But he's an amazing man, and life happens in an instant sometimes.
Hearing about the things he's done and seen will take our lifetimes. There is grit and integrity to those who serve their country and their beliefs. I've seen it firsthand, in my husband and in those he served with. To those who have served, who have said "I will stand up for what I believe in", we thank you. To the families of those who serve, thank you. We wish for peace for all, but we are so very grateful to those who stand ready to protect.