I've lived in states where people are frugal – a polite word for stingy, greedy, lazy or money grubbing. These folks often thought grazing forage into the ground was economical.
However, letting livestock graze forage into the soil:
Reduces forage quality consumed, as livestock are forced to eat stems and dead leaves,
Exposes small ruminants to parasites,
Reduces the tonnage of forage produced, because the leaves are all gone and plants must use reserves to begin regrowth which slows the entire process and reduces yields,
May damage wildlife habitat, and
Can reduce total livestock gains.
So I ask "Do you mow your yard really short? If they say "Yes." Then I ask, "Why?"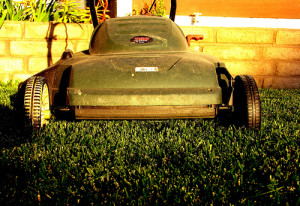 They always say "So I don't have to mow so often." Then I say, "So you graze your pastures so short so you don't have to . . . .?" I've seen the light come on many times and they answer "Graze so often!"
Photosynthesis is the only mechanism to feed the plant regardless of what the fertilizer fellow says.   The minerals, water, and air are just raw materials. Enough leaf surface should be left on the plants we want to keep to allow them to feed themselves through regrowth. There is no "bank bailout" or "too big to fail" in the plant world. If plants use all their reserves to regrow new leaves, only to have them repeatedly eaten off, then the plant goes bankrupt and dies. But there's more! I challenge my customers to mow as HIGH as their lawn mower will go on part of the yard where their spouse won't mind or split one pasture into many paddocks and try that first. The response from those who've taken the leap has always been positive, except for the one who didn't understand about rest and letting the plants regrow and then re-grazed in just a few days.
You Reap What You Grow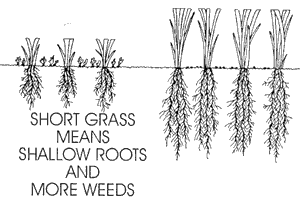 Grass roots grow down at least as far as the leaves are high. By leaving more grazing height, the plants have access to moisture and nutrients far longer than their short peers. Letting forages rest appropriately is perhaps "The Key" to good management.
My youngest son plays football and is so good that in his freshman year, he played running back and safety in junior varsity games on Tuesday nights, and varsity games on Friday nights. A few weeks into the season, he was hurt. Why?   He never had time to recover between games to rebuild the damage from the games.
The same goes for forages; if they are grazed (especially if they are grazed short), experience extreme weather-related stress (drought), or have pest issues, then they need adequate rest to regain 5-7 complete leaves before being grazed again. This allows forage to store up reserves in the roots and stem through photosynthesis, and perhaps even make seeds for new little plants to replace the ones who died from old age or disease.