Loading...
You are here:
Home
>
'equine'
Latest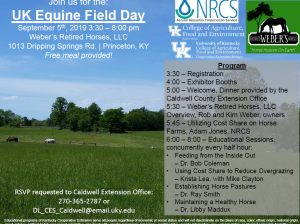 http://forages.ca.uky.edu/event/western-kentucky-equine-field-day 3:30 – Registration 4:00 – Exhibitor Booths 5:00 – Welcome, Dinner provided by the Caldwell County Extension Office 5:30 – Weber's Retired Horses, LLC Overview, Rob and Kim Weber, owners 5:45 – Utilizing Cost Share on Horse Farms, Adam Jones, NRCS 6:00 – 8:00 – Educational Sessions, concurrently every half hour: • Feeding from […]
Read More →
Latest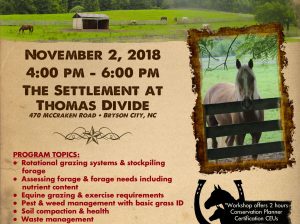 The event focuses on rotational grazing, forage optimization, pest / weed management, waste management and soil health. Register by calling 828.488.3848 or email melissa_vaughn@ncsu.edu. In addition to local soil and water conservation districts, project supporters and partners include NC Agriculture Development and Farmland Preservation Trust Fund, Golden LEAF Foundation, NC Cattlemen's Association, NC Horse Council, NCSU's […]
Read More →
Latest
Some people say that if you want to build a putting green, put a horse on pasture. Their dietary needs, the way they graze, and the space an owner has available for horses all influence how we manage them.
Read More →