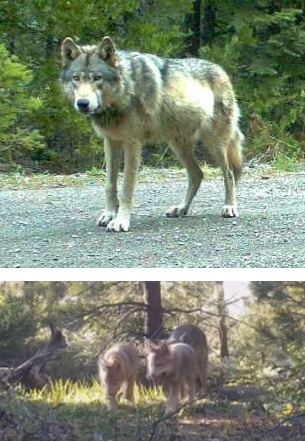 In 2011, the first wolf in nearly a century entered the state of California. It was this news that led Siskiyou County rancher Mark Coats to begin working on ways to protect cattle from possible predation. His solution – rather than trying to get rid of wolves, he would teach cattle to group into a defensive herd when predators are near.
Mark's goal was to eliminate the flight fear response by teaching cattle that gathering together provides comfort and safety. His idea was based on studies that show wolves do not attack groups of livestock and prefer to chase individuals. He found that studies indicated cattle in groups were safer than individuals who ran.
In the video below, Mark describes his predator awareness solution, starting with the three things he wants cattle to learn:
1. The standing solution
When a single animal receives pressure, instead of running or fleeing, it will stand.
2. Herd awareness
Animals know where the herd is and how to return to the group.
3. Predator awareness
This is the defensive posture of the herd against predators.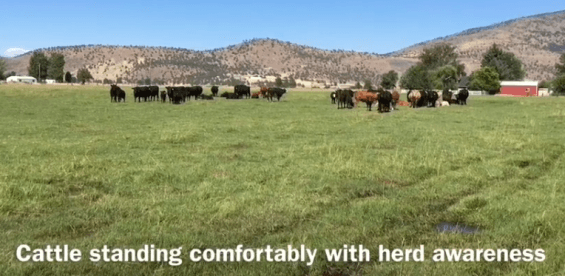 In this 11:42 video Mark walks us through his training techniques. He starts with a herd of replacement heifers unaccustomed to dogs. Using his dogs as "pseudo predators" he teaches them NOT to chase dogs (a behavior predators use to separate animals for the attack), and how to stay together as a herd. In the 2.5 mile walk to the shipping corrals, you can see how he turns a group of individuals into one herd. Next, he demonstrates how he teaches a herd to stop and to move, so they're gathered together as a defensive herd group, and how, once trained, they do all the things they're asked to as a calm group. This answers a question that some folks have, "Will this training make my cattle wild?" Just the opposite, it creates calmer, more manageable animals.
Note that the training, like good stockmanship, is based on pressure and release. As Mark says, "When wolves confront livestock, they (livestock) get fearful for their lives. Once they reach the group, the pressure is relieved. A defensive standing posture will deter wolves. What we're encouraging is a defensive posture of moving to the herd."
Does it Work?
With such a small wolf population in the state, most cattle herds have not yet been tested. But, Mark says, "We always saw losses to coyotes, but since we've worked with this program we haven't had any losses to mammals."
How Can You Use This?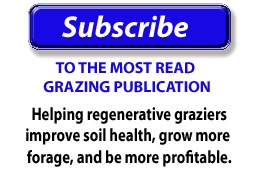 This is an introduction to all of the training techniques Mark Coats uses. As you can see, having good dogs and stockmanship skills are important. We'll be working with Mark to share more information on this system in future issues of On Pasture.
It's also important to know that this is only one of the tools in Mark's toolbox for dealing with predators. We'll be looking at other techniques he's found success with.
If you'd like to learn more right away, please visit Mark's website