This week Greg Judy tells us all about Autumn Olive management and how he's learned to use it as a tool for improving the soils in his pastures and as a forage for his livestock. He also mentions that it provides a pretty tasty forage crop. A side benefit of eating the berries is that it leaves fewer seeds for the birds to spread around. So if you're trying to get rid of autumn olive in your neck of the woods, get cooking. Heck, maybe you'll even be able to successfully market your products as another income source. (This guy is the first to make an attempt. He may have been ahead of his time.)
Autumn Olive Ketchup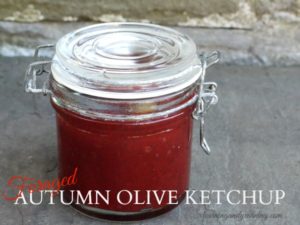 Susan at LearningAndYearning says the berries ripen in September and October. When fully ripe they detach quite easily from the bush. She uses them to make ketchup like this:
Ingredients
4 cups autumn olive berry puree
1/2 onion
1/2 tsp whole peppercorns
1/2 tsp whole mustard seed
1/2 stick cinnamon
1/8 teaspoon whole cloves
1 1/2 tsp tea salt
2 tablespoons apple cider vinegar
1/2 cup maple syrup
To make berry puree, put them through a squeezo strainer or simmer them with a small amount of water until soft and then put them through a Foley food mill. Place puree in a crockpot with no lid and simmer gently until reduced by half. Tie onion and spices in a spice bag and add to puree along with the sea salt. vinegar and maple syrup. Cook until thick.
Autumn Olive Butter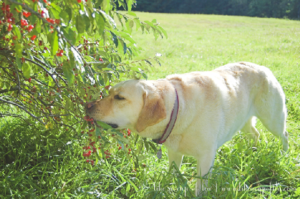 Heather (Like a Cup of Tea) got worried when she say her dog eating AO berries. When she discovered they not poisonous and good for her to eat too, she turned them into Autumn Olive Butter. Here's her recipe
Ingredients
8 to 9 cups or so of berry mash (she boiled the berries down and then squeezed them through a sieve to remove the seeds)
Few tsp of lemon juice (add a little at a time and keep tasting to get it right for you)
2 cups white sugar
1/2 cup maple syrup
1/2 cup brown sugar
Few tablespoons of pectin (or sure jell if you like it more like jam)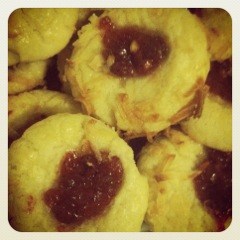 Process for canning according to instructions for your altitude and Ta Da! AO Butter! And if you turn it into jam you can use it as the filling in thumbprint cookies.
I'm sure there are plenty of other tasty things to be made out of AO berries (pies, pancakes, muffins, smoothies, wine, etc), so use your imagination and beat those birds to the punch. All that lycopene means it's heart healthy and could prevent some types of cancer!

Since you're here …
We need your help to meet the $15,000 annual match for our Conservation Innovation Grant. The grant keeps On Pasture going for the next 3 years, but only if we can meet the cash match. If we meet our goal this Spring, we won't ask again in the fall. (And it's our fourth birthday, so when you give we'll send you a party favor as a thank you!)
We've made it to $1,000 in our first 2 weeks of the fund drive. Your help will mean so much!
Save
Save
Save