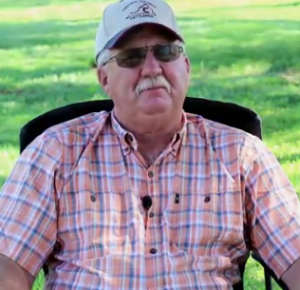 If you're working on change, I think you're going to love this interview of Ronnie Nuckols of Crozier, VA. He talks about how he started with small steps, building on each one, and the progress he saw at each step inspired him to keep going.
He started with what may be the hardest step: changing his mind.
"I think the major challenge in beginning this process was the mental attitude that I needed to change. I needed to do a 180 from the system my father had used for 30 plus years and that I'd been part of, and to believe that a new system would work and I would gain the benefits from it that was indicated," Ronnie says.
And he had the same questions about the new system as most of us do. "I'd could see it work other places, but would it work here was the question in my mind when I started this process."
His first step was just rotating between some permanent pastures. That led to "Day Grazing" or moving animals daily.
Ronnie says, "I was able to gain control of my cattle, which I didn't have. Before they had grazing and water wherever they chose to take it. With the new system they needed me to let them into new pasture, to provide water source, and animals that would run from me in the beginning would come to the gate."
The pastures improved too. Since the cattle could no longer graze their preferred species only, and overgraze in many cases, the result was lots of weed in pasture. Now that he's managing his cattle better, pastures are much healthier.
For those of you in areas like Ronnie's you may also be able to introduce annual species as well. He talks about what he's seen in forage quality from the mixes he's planted, and in soil health improvement.
Stream exclusion was something that started out feeling very painful, and he was worried about being able to replace the forage he would lose with his 35 foot exclusion zone. But once the system was in place, the quantity was replaced by quality thanks to the new rotation of his herd.
He's enjoyed the process of step by step change. He's found that all of his steps have led him to his current step – trying to improve soil health.
Like all of us, he's trying to leave the farm in better condition than he found it. I hope his suggestions help you all with that.
This video comes to us thanks to the Virginia Forage and Grassland Council with funding from a USDA Natural Resources Conservation Innovation Grant.
Want More?
Matt Poore and Johnny Rogers thought a lot about the steps we can use to change a little at a time. Here's what they came up with.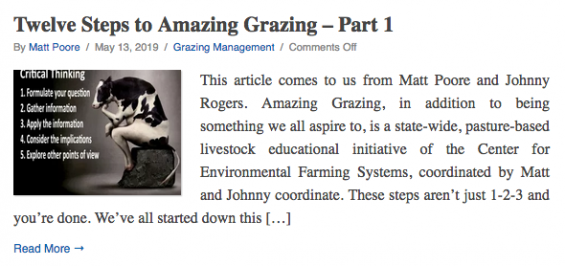 One more thing…

Right now, we're working on the next three years of funding for On Pasture. If On Pasture is helpful to you, then we could use your help to keep On Pasture online. Here's what you can do:

1. Become an ongoing supporter. This shows grantors and sponsors that readers are committed to On Pasture.

2. Send Kathy an email about how On Pasture has helped you as a farmer, rancher, NRCS staffer or agriculture professional. If you use NRCS technical and financial assistance, we'd like to hear from you too!